Spring 2001
NS Volume 9 No. 1



Probing the intersection of fiction and faction, [Dunbar-Nelson's] stories constitute a powerful critique not only of the Americanization of New Orleans, but also of the forces of history that were transforming her world as a new century was dawning - a century that would become the American century. Many of her characters live in a world that has no place for them simply because their existence alone threatens newly created social, cultural, and economic hierarchies and categories; they do not fit on either side of the new lines of division the American century begins to draw.


Rewriting the Final Adjustment of Affairs: Culture, Race, and Politics in Alice Dunbar-Nelson's New Orleans

-- Jurgen Grandt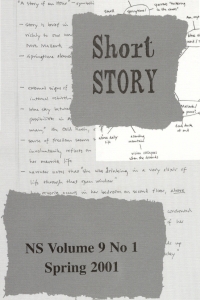 More Rigor, More Rigor
by Lucas Carpenter
"Read this for me," he said. "Then tell me if it's worth my time."

It was a paperback copy of a new novel (Count Gizmo, by Norman France, the first effort of a hopefully pseudonymous, ostensible wunderkind who, according to the back cover blurb, "has always lived with his parents somewhere near Prospect Park") given to him by his equally new girlfriend, a senior in his Seminar on Teaching whom Woody Allen might have had in mind when he coined the term "kamikaze woman," referring in her case to a highly-sexed, neurotic-to-the-point-of-borderline personality-disorder who had already become way too attached to him. It wasn't that kind of self-abasing worship that makes feminists furious; it was a mutually satisfying indulgence in a deliciously dangerous self-destructive romp.


Return to Table of Contents.
The Vineyard, Where the Grapes of Wrath are Stored
Tom Chiarella

The first time my wife tries to kill me, we're driving toward the city, to the movie theaters there. She sparks a joint. She's a nurse and they test her for drugs all the time at work. But she's got her ways around trouble: chlorine, salt, replacement urine for the unannounced tests, homemade douches and body flushing teas for the ones they tell her about in advance. So she smokes. We're passing barns, pig farms, giant lots of soy beans. Nothing we haven't seen before. We're headed toward a city, to the movie theaters there. She's driving, talking to me as she smokes-- talk, drag, hold, hold, breathe, talk some more. Going on about her work, and I've heard all that too. Coding. Going septic. Irrigating. The sort of terms a skier might use. A week before, she got a haircut from Jimmy, her hair guy-- just a little, less than an inch, although she'd gone in for more. When she got home, she called herself a coward.


Return to Table of Contents.
Review of Jhumpa Lahiriís Interpreter of Maladies
Ronny Noor

With her very first collection of stories, titled Interpreter of Maladies, Jhumpa Lahiri garnered a string of prestigious literary awards in 2000, including the PEN/Hemingway Award and the Pulitzer Prize. Not bad for a book that had been turned down by a literary agent. And certanily no small feat for a writer who is still in her early thirties. Born in England of Indian parents and raised in America, Lahiri, now a resident of New York City, captures the idiosyncrasies of all these cultures in her fiction with penetrating observation and uncanny precision of detail. Eight of the nine stories collected here had appeared in various literary and nonliterary journals around the nation before they found a home in the present book. They reflect, in most cases, the experiences of immigrants; but deliver messages that transcend the narrow bounds of immigrant experience to embrace universal human issues.


Return to Table of Contents.
---
Click here to return home.